Posted on
By HOTHOT Radiators - HOTHOT Exclusive, s.r.o.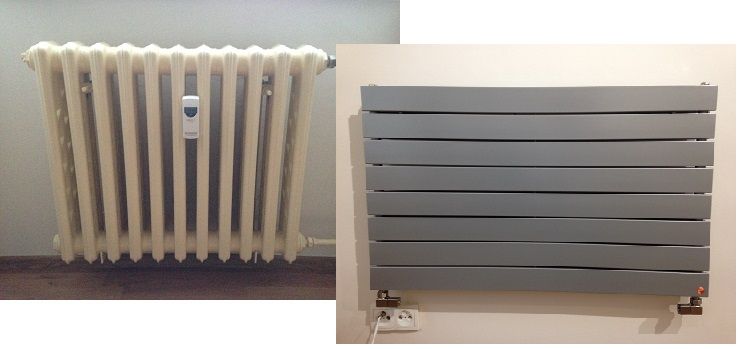 STEP 1: Finding out the current state of central heating system

Find out as much information about current heating system as you can. Evaluate not only central heating system and current heaters, but also insulation, pipes and valves. Check the type of central heating system – it can work for a thermosyphon effect (without pump) or force circulation system (thanks to pump).

Take the temperature of radiators and central heating system into consideration. For example the temperature 75/65/20°C. Radiators outputs are quoted for flow temperature 75°C, return temperature 65°C and room temperature 20°C; the so called 75/65/20°C standard.

Decide between reparation of old radiators or replacement of old radiators. Is it necessary to change the whole heating system, boiler or just radiators? Think about both practical and economical point of view. The restoration of old radiators can be more time-consuming and more expensive than the replacement. The restoration includes removing, transport, dismantle, clean, reseal, remantle, the radiator must pass pressure test, colouring if needed and again transport and the installation of radiators.

Replacement with a new radiator is more simple – just remove, adjust pipes if needed and install the new radiator.

STEP 2: Set a goal

After making a decision to replace old radiators, imagine your new radiators and choose the model you like. Vertical radiators, horizontal radiators, radiators under the window, there are many options. Radiator is not anymore just practical issue, but can be stylish design accessory.

STEP 3: Choose your new radiator

a) Space and dimensions – think about the height and width of radiator, do not forget on depth (the distance from the wall to the most forward point of the radiator). Radiators should be installed at least 10 – 20 cm above the ground. Radiators can be mounted on the wall, but another options are self-standing radiators, corner radiators or room divider radiators.

b) Heat output (Watts) - it is the best if you know the heat output of your old radiators. If not, your plumber or heating engineer should be able to calculate the exact size you need and the necessary heat output.

Also it is possible to calculate the approximate heat output here.

The heat output is measured in Watts or BTU (1 Watt = 3,412 BTU and 1 BTU = 0,293 Watts)

c) Type of heating – radiator can be connected to central heating system or used as individual heater – electric radiator or dual fuel radiator (radiator connected to the central heating system and also electric).

Radiators can work for a thermosyphon effect (without pump) – we offer these radiators for the thermosyphon system – AQUA column radiators or vintage radiators – Retro Revolution.

d) Connection – find out connection features for your already existing system - connection centres, diameter of pipes and clamping fittings. Consult the connection with your heating engineer or a plumber. Sometimes you need to adjust pipes.

Radiators can be made-to-measure and not just height or width but also connection.

e) Material – today the most common material is steel, but also stainless steel, chrome, aluminium or cast iron radiators can be used. Modern stylish radiators used materials as mirror, glass, photo (picture) or LED illumination.

f) Design and colour – select the colour of radiator that will match your interior. Light colours, bold colours, metallic colours, smooth colours – you can choose any colour from RAL sample book.

STEP 4: Consultation with your heating engineer or plumber

Consult your choice and replacement of old radiators with your heating engineer or plumber who will install your new radiators. Choose the heating engineer or plumber according to recommendations or reference. So you can avoid unsightly looking pipes that should stay hidden, incorrect radiators connection or scratching your new radiator. The installation of radiators should be perfect aesthetically.

Unsightly looking pipes

Well hidden radiator pipes

STEP 5: Choose valves and accessories

Donˋt forget about thermostatic valves or classic radiator valves. Choose the suitable type of radiator valve. Today you can find various types and also designer radiator valves.

STEP 6: Delivery period

Find out the delivery period. Not every radiator is in stock and sometimes it is worth to wait for some designer or bespoke radiators. Delivery period can be from 3 to 6 weeks.

STEP 7: Control and installation of radiators

Control your radiator immediately after the delivery. It is better to entrust the installation and connection of radiators to your heating engineer or plumber.